Explore our library of guides and resources and discover your next move.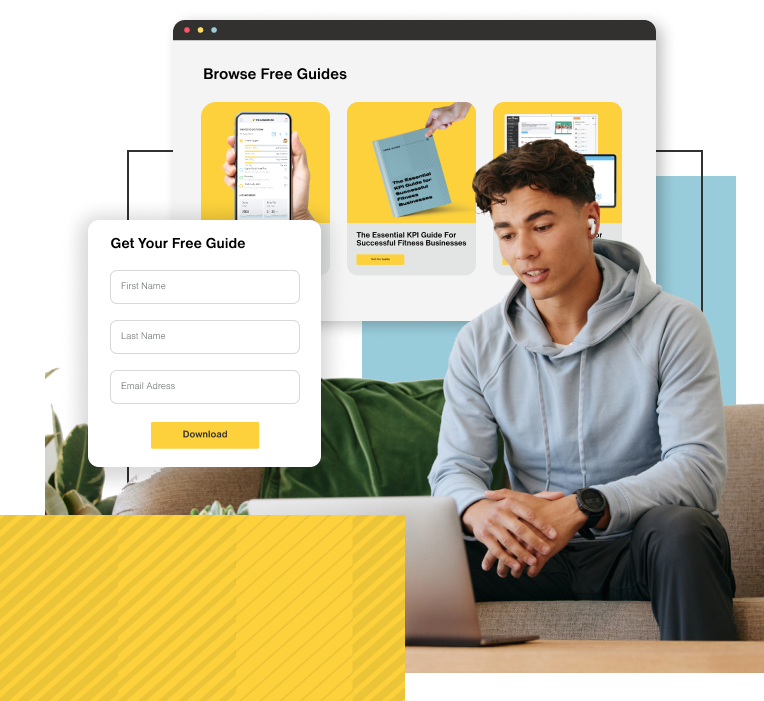 Uncover new ways to make the most of Trainerize, grow your business, and more. We've got the expert tips and industry insight you've been looking for.
Learn from our team of coaches—the ultimate experts in all things Trainerize.
The Foolproof Guide to Adding Nutrition Coaching to Your Services
In this comprehensive 7-part guide, you'll learn how to integrate nutrition coaching into your service offering to supercharge your fitness business!
5 Ways to Train with Trainerize
In this guide, we walk you through five business models that Trainerize can power for your business. Learn how our online engagement tools can grow your business, expand your service offering, and increase your revenue.
The Ultimate Guide to Video Coaching
Stay competitive in the video world by implementing a video coaching strategy. In this guide, we outline just how essential video is to your fitness business, the tools that can make the difference for your bottom line, and of course, tips on how to build a video content strategy.
Why Your Session Booking App Isn't Enough
This guide explores why your standard session booking app may not be doing enough for your business and how a fitness app that puts engagement first can help:
From marketing tips to client engagement and retention know-how, we've got what you need to hit your next business milestone.
Step-by-Step Guide to Transitioning your Studio to Digital Coaching
Trying to take your fitness studio digital? Check out this digital guide!
Digital coaching plays a vital role in the success of many fitness studios. But, simply shifting to online methods is not enough these days.
The Ultimate Guide to Client Engagement
This free guide provides a clear definition of client engagement, explains exactly why it's so important, and helps you discover how tech can supercharge those client relationships!
Using Compliance to Drive Client Results
If you're using Trainerize and its built-in compliance tracking, you already know when some of your clients are falling off course or crushing it left and right. Now, we're sharing experts tips on how to coach your clients to achieve their goals based on their compliance scores.
The Ultimate Guide to Client Retention
This three-part guide will help you establish your retention baselines, strengthen your client relationships, and keep selling. You're here to help your clients, and the best way to do that is to keep them committed to their fitness!
How to Get Your First Sale In 30 Days: A Marketing Checklist For Fitness Entrepreneurs
There's more to marketing than posting to social media! With this guide, you'll work your way through a strategic checklist of targeted ecommerce marketing tactics to build your brand and sell your services.
How to Get 30 Clients in 30 Days
Learn to build your business, market your services, and attract new clients. Whether you're just starting out or you are trying to grow your fitness business, attracting new fitness clients can be a real challenge. We feel you, and we're here to help!
5 Easy Ways to Incorporate Mobile Fitness Technology in your Fitness Club
Fitness apps and mobile technology are the key to building stronger relationships with fitness club members and stimulating member retention. How do you leverage them? Download this Free Guide and learn 5 easy ways to incorporate mobile fitness technology into your fitness club.
AND FUEL YOUR BUSINESS GROWTH WITH TRAINERIZE.
Enjoy 30 days free with unlimited clients and all add-ons. No credit card required.