Some things are changing & we're excited to share them with you.
This year at IHRSA San Diego, we're going to look a little different...
Discover an evolved ABC Trainerize and come say hi!
We believe in a world where everyone has the opportunity to be their best self.
And we know that you are one of those inspired to bring your vision of fitness to others to help them do that. But we also know that the realities of running a business often get in the way of fulfilling that vision.
As ABC Fitness has grown and developed over the years, we are now in the unique position—with our unparalleled mastery of insight, technology and innovation—of being able to help you turn those passionate visions into seamless reality.
If this lights the same fire within you that it does in us, then we should talk.
Come see us at booth
#2109
Unlock the full potential of your gym with our personal training app for large clubs
Tap into the world of digital fitness and offer convenience, flexibility, and personalization to your member experience.
Deliver a unified experience for your members and incorporate their most used tech into their everyday training.
Let members choose how, where, and when they train with flexible options including in-person, online, and hybrid services.
Fuel member success and turn small steps into big results with nutrition and habit coaching.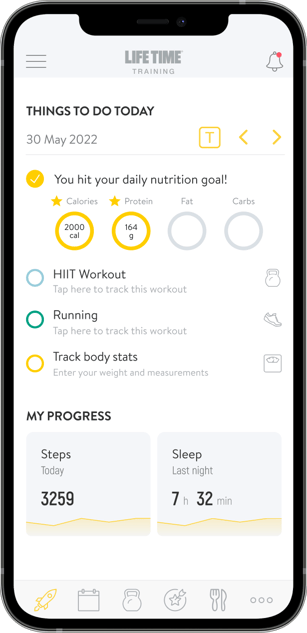 Our Sessions & Sponsorships
Don't miss out on these power-packed informative sessions that ABC Fitness is proudly sponsoring or expertly presenting.
Building World Class Teams

How do you inspire individual team members to become great teammates? What if your teams were not only driven to achieve goals with each other but FOR each other? The world's most successful teams have one thing in common: Human Synergy, which Robyn Benincasa describes as "the magic that allows groups of ordinary people to accomplish extraordinary things together."

ADD TO CALENDAR

Panel: Is Fitness Recession Proof

According to latest Deloitte January 2023 Consumer Report, 75% of buyers remain concerned about rising prices. So, what does this mean for your business? What are club/gym/studio members willing and unwilling to pay for with their discretionary income during uncertain times in the economy? What experiences do members value the most? Join us as we share our annual industry research and answer these pertinent questions.

ADD TO CALENDAR
Let's Talk Fitness
Attending IHRSA 2023? We'd love to connect and get you acquainted with Trainerize. We support organizations of all sizes. Fill out the form and let's start the conversation.